This is a full day with a little something for everyone! Central Park, shopping, art, major New York landmarks, and the most gorgeous view of New York City! This is a great itinerary for someone who has a short amount of time in NYC. It's also the itinerary I do the most with guests and it's great year round; it's really impressive at Christmas time!
The Best of 5th Ave!
Duration: Roughly 5 hours, I prefer starting this mid-morning and ending in the late afternoon.
Cost: Moderate ($40 - 75, depending on how you do it)
View Larger Map
View Larger Map
Starting Point: Central Park Duck Pond
Entrance is at 61st and 5th Ave
Cost: Free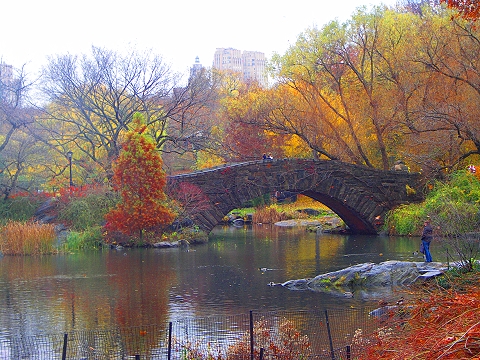 Grab your cup of coffee and take a lovely stroll through the Central Park Duck Pond, it's a great way to get a small snapshot of this gorgeous park. There's a lovely foot bridge over the pond that yields to a gorgeous NYC photo and moment.
B: The Plaza Hotel
5th Ave at Central Park South
Cost: Free
This is definitely worth a look. It's so incredibly iconic and beautiful with it's copper roof and flags flying out front. You can take a stroll through the hotel, which I recommend, they have the most beautiful flower arrangements and now you can say you've been there. If you want to really swank it up, you can spring for brunch or breakfast at the Palm Court, but do so at your own risk because it will break the bank.
C: Apple Store
5th Ave between 58th and 59th Streets
Cost: Free
For you techie nerds, welcome home. This is the iconic Apple store that everyone wants to check out. If you're into Apple products, you'll enjoy it.
D: FAO Schwartz
5th Ave at Central Park South
Cost: Free
This is a must see! Not only does it bring out your inner child (really... it does), it's where they filmed the famous piano scene in the movie Big, and you can relieve it.
Next make your way down the famous 5th Ave!

There are lots of places to stop and gawk at! Tiffany's, Louis Vuitton, Prada, Trump Towers, and many more. The window shopping is divine - especially at Christmas!
E: Museum of Modern Art (MOMA)
11 W. 53rd Street, between 5th and 6th Ave.
Cost: SVA students get in for free plus 2 guests!
This is a fantastic museum and a great place to stop and have some lunch. Danny Meyer owns and runs all the restaurants here and they're all fabulous! Make sure to check the MOMA website for their upcoming exhibits, they're always worth a look but unless you're a member, you have to book times to view those in advance. And always get the audio tour - it's free and worth having with you.
My recommendations for the MOMA
Definitely hit up the 6th floor and see whatever special exhibit is going on, they all tend to be pretty spectacular.

The 4th and 5th floors are part of their permanent collection, which is unbelievable. You'll see Van Gogh's Starry Night, Monet's Water Lilies, Picasso's, Mattise's, Dali's, Pollock's, Rothko's and many others that you've only learned about in school.
If you have more time, you can certainly do the rest of the museum, but I find these three floors to be sufficient, impressive, and enjoyable. It's also not museum overkill.
Lunch: Cafe 2
MOMA second floor
Cost: $20 approx.
By the time you get to the MOMA, you'll probably be ready for a little lunch. Cafe 2 is a great little Italian restaurant that is perfect for lunch! It can end up being a little pricey, but it's the least expensive of the restaurants at the MOMA and it's really worth it.
My recommendations - get a few things and everyone share: Herb Roasted Chicken Panini with fontina and sun-dried tomato tapenade, Chickpea Salad with citrus, fennel, beets, cucumbers, and greens (which is huge), Creamy Cornmeal Polenta with homemade arugula-walnut pesto, fontina cheese (this will make you think you've died and gone to heaven), and their soup of the day is always a winner and great to dip the panini in.
F: Radio City Music Hall
50th Street and 6th Ave
Cost: Free
I like to walk people by here for a great photo-op of them in front of the famous Radio City marquee.
Optional: They have a tour that you can take here that's really informative about the architecture of the interior of the building - which is stunning! However, it's over priced ($20) and kitschy - you meet a Rockett, eh. But if you have time and money to blow - go for it!
G: St. Patrick's Cathedral
5th Ave between 51st and 50th Streets
Cost: Free
Built in 1858, this is one of the most gorgeous churches in New York City. It's no wonder that people have been coming here for 150 years to seek solace. They offer free tours, but you have to call in advance, 212-355-2749

.
H: Rockefeller Center and Top of the Rock!
Entrance is 5th Ave between 50th & 49th Streets
Cost: Free - $0 - 30, depending on what you do
There is sooooo much to see here! They have a great interactive website that can help you make the most of this fantastic cluster of amazing architecture and landmarks. They have a great tour of Rockefeller Center ($15, cheaper if you combine it with Top of the Rock) with a that comes with a supplemental audio tour - it's worth it if you have the time.
Walk down the famous Channel Gardens (5th Ave between 49th and 50th Street) that leads to the iconic Prometheus Statue (during the winter, this is where the ice skating rink is). Definitely take a walk around 30 Rock's lobby, the murals inside are stunning.
Refuel: 30 Rockefeller Center has a HUGE food court. If you're needing a little pick me up and a snack, they have it - and everything else - in their basement level.
Top of the Rock
Cost: $23 (and worth every penny!)
One thing that you have to do while you're in NYC is go to Top of the Rock. It's a three level outdoor observatory on the top floors of 30 Rockefeller Center. It's the most spectacular views of New York City that I've ever seen. It rivals every other observatory in NYC. You can go day or night, and it's amazing at either time.
I hope you enjoy my Best of 5th Avenue Tour! It's great fun and I enjoy it every time!