I love being a tourist in my own city. New York is unbelievable and I get excited to show people the city I love so much. I never get tired to going to the same places as they all still hold wonder for me. However, nothing terrifies me more than when I ask one of someone who is coming to visit me what they want to do while they're in New York and they say "I don't know. Whatever you think is good." Or even worse, they have an unrealistic idea of where everything is and how to get there - Empire State Building, World Trade Center Memorial, and the Gugenheim are not going to happen in the same day.
It can be overwhelming for non-New Yorkers to make a feasible itinerary for when they come to visit. I started having my friends make a list of the top 5 things they want to see while their here and then I built itineraries around them. Over the years, I have perfected these itineraries into optimum sightseeing machines! And now, I will share my New York Tourist wisdom with you... Welcome to my new series, New York by Nicole!
42nd Street Walking Tour
Duration: Early afternoon into evening
Cost: El Cheapo! (includes lunch and dinner)


View Larger Map
42nd Street at Lexington Ave
Cost: Free
Grand Central is not only the world's largest (76 acres) and the nation's busiest (nearly 700,000 commuters and subway riders use it daily) railway station, but also one of the world's most magnificent, majestic public spaces. Every time I walk through Grand Central I get this warm amazing feeling of New York Pride. I never get tired of wandering through it and noticing little details that I never noticed before.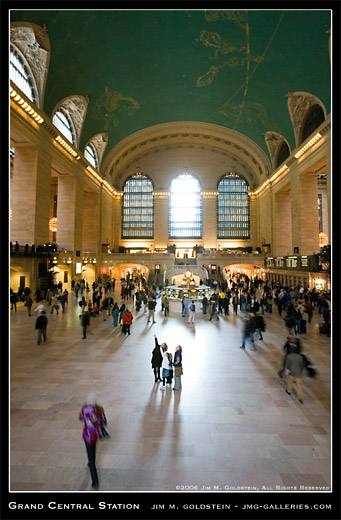 Recommendations...
Self Guided Walking Tour: this is great printable walking tour of Grand Central that is full of facts and history. You won't miss anything!
Vanderbilt Hall Exhibits: If you check out the event calendar, usually there is an art installation in Vanderbilt Hall that is always spectacular. During the holidays they have a nice bazaar there.
40th and 42nd Streets & Fifth and Sixth Avenues
Cost: Free
Sit outside and people watch in this gorgeous park. It's a great place to stop and have some lunch and get a little sunshine before continuing on with your day.
Recommendations...
Christmas Time @ Bryant Park: This is a great time to go! They have a huge gorgeous Christmas tree, a holiday bazaar, and ice skating. It's like a winter wonderland!
Public Bathroom: no joke, hands down the BEST public bathroom in NYC if not the whole world. They have a fresh flower arrangement and a bathroom attendant that gives you towels. It's amazing.
Stephen A. Schwarzman Building
Fifth Avenue at 42nd Street
Cost: Free
This is such a beautiful building and the Rose Reading room is stunning. They do amazing exhibitions all the time and it's one of my favorite places to wander around in. Plus it's been in a dozen or more movies including Spider Man, Ghostbusters, Breakfast at Tiffany's, and of course it was Carrie's Wedding venue in Sex in the City.
Recommendations...
Children's Center (basement level) to see the genuine Winnie-the-Pooh dolls given to Christopher Robin by his father and the author of the Winnie-the-Pooh books, A.A. Milne.
Christmas Tree: At Christmas time, the NYPL has a gorgeous Christmas Tree every year.
1133 6th Ave., at W. 43rd St
Founded in 1974 by photojournalist Cornell Capa (photographer Robert Capa's brother), this leading photography museum and school has a permanent collection focused on American and European documentary photography of the 1930s to the 1990s. They have fantastic exhibitions that change regularly and it's small enough to do in an hour or so. The gift shop is a Stationary and Postcard Lovers dream!
Recommendations...
On Fridays, from 5:00–8:00 pm is pay what you wish.
Broadway between 42nd and 44th streets
Cost: Free
If you have any energy left and the daylight has faded, head over to Time's Square where the city lights will revive you. Wander through the myriad of shops, see the glitzy theaters and signs, get a true New York experience.
Recommendations...
Toys R Us Store is awesome, Broadway and 44th Street.
Dinner @ Junior's Cheesecake: No visit to NYC is complete without a slice of Junior's famous cheesecake (try the Red Velvet or Carrot Cake - it'll change your life). Their diner/deli food is pretty good too (not cheap, but good). Honestly, a slice of cheesecake will do it for dinner if you know what I mean! 45th Street between Broadway and 8th Ave.